September 2, 2021
Contact: Claire Swinford, Executive Director of Downtown Ventures
719-201-1630 | claire@downtowncs.com
Popsicle Promenade returns to First Friday Downtown
September art walk features progressive dessert tasting and interactive art at select venues
Colorado Springs, CO - First Friday Downtown on September 3 features new art exhibits, live music and special events at galleries, retailers and nonprofits in the heart of the city.  Free and open to the public, First Friday Downtown offers cultural activities on the first Friday of every month 5-8 p.m. at venues throughout Downtown Colorado Springs.
Read on for this month's can't-miss offerings. A full listing of September First Friday Downtown events is available at www.downtowncs.com/firstfriday. Images provided below.
Progressive tasting of sweet summer treats
On September's First Friday Downtown, the popular Popsicle Promenade progressive dessert tasting will return with sweet treats and interactive art at a dozen venues. Pre-registered participants may present their digital Popsicle Passports at participating restaurants and galleries to receive summer-themed gourmet treats and chances to win. Event sells out every year, so early registration is strongly encouraged. Learn more about participating venues and purchase $10 tickets at http://downtowncs.com/popsicle.
Tunson presents multimedia exhibit
Kreuser Gallery (125 E. Boulder St.) hosts ECHOES, a large multimedia exhibit of recent works by Floyd D. Tunson. Tunson's work is known nationally for its uncompromising depictions of African-American masculinity, but these new series reveal a playful, existential mode. "When I was four years old watching my older brother draw, I thought what he was doing was magic, and that's what I wanted to do - make magic," says Tunson. "Since then, art has consumed my life." Reception runs 5-9 p.m. with live music by Ben Hall. Keep an eye peeled for the Phil Long EV Outlet #ArtontheStreetsCar parked on Boulder Street!
Music & art extravaganza in Southern Downtown
On the other end of Downtown, new restaurant Steel Pan PNP (402 S. Nevada Ave.) joins First Friday with music and live painting demos. The event runs all evening, with pop-up galleries featuring the work of Trill and Gallows Pole, who will be painting live to a DJ set by Macadoe Raf. At 9 p.m., a $10 ticketed concert features Rafiel, Ferret&Co and Blues Duo. Across the street, Bar-K (124 E. Costilla St.) will host a reception for featured artist Andi Drobny 6-8 p.m. Halfway down the block at Kinship Landing (415 S. Nevada Ave.), stop by 5-10 p.m. for the First Friday Female Feature, featuring a selection of women artists and musicians. All three venues offer food and drink available for purchase all night long.
IMAGES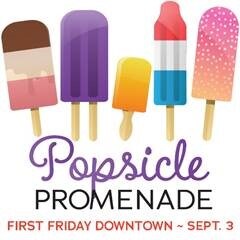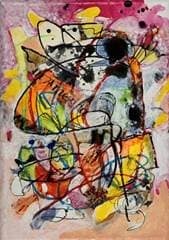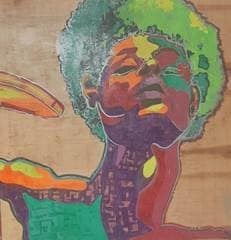 Image Credit (Left to Right):
Promotional image for Popsicle Promenade. Image courtesy Downtown Partnership.

Chasing Eta 12

by Floyd D. Tunson. Image courtesy Kreuser Gallery.

Work by Andi Drobny. Image courtesy Josh the Curator.
ECONOMIC IMPACT OF CREATIVE INDUSTRIES
Local artists and arts venues are a vital part of the Pikes Peak Region economy, contributing $153 million in revenues; 5,070 full-time equivalent jobs; and nearly $16 million in tax revenue to local and state government every year. Event-related spending by art and cultural audiences totaled $102.1 million in 2015, the last time the Pikes Peak Region was studied by the Arts & Economic Prosperity (AEP) initiative of Americans for the Arts. These figures reflect only the impact of the nonprofit arts and culture industries; the cumulative impact of the Pikes Peak Region's creative industries, for-profit and non-, is much greater.
ABOUT FIRST FRIDAY
First Friday Downtown features FREE monthly cultural events throughout Downtown Colorado Springs. Galleries, museums, cultural organizations, and retailers host art openings, artist receptions, performances, and more the first Friday of each month, from 5-8 p.m. Additional details at www.downtowncs.com/firstfriday.
Downtown Colorado Springs is a Certified Creative District in the Colorado Creative Industries Creative District Program. Included in the district are cultural landmarks, award-winning outdoor sculpture, independent galleries, and other one-of-a-kind cultural and entertainment opportunities. First Friday Downtown is supported in part by Colorado Creative Industries, the Boettcher Foundation, and National Endowment for the Arts. For more information, visit www.downtowncs.com.